Until now, the only TWS (True Wireless) Earphones were made by Apple. But since the release of Airpods 2 – many other manufacturers have tried to bring their own version of earbuds without a neckband. Samsung launched Galaxy Buds & Gear IconX buds, Huawei, Skullcandy,Bose have all started to embrace the trend.
Xiaomi is not one to be left behind. The company launched Mi Airdots & Mi Airdots Pro True Wireless Earbuds in China. Both of them are very low priced compared to Airpods & offer some interesting features.
The Mi Airdots come in a charging case with a 300mAh battery which can provide upto 12hrs of power. Each earbud contains 40mAh battery which can provide 4hrs of continuous audio playback. It takes almost 1.5 hrs to charge the Mi Airdots from 0 to 100.
Technical Features
The Xiaomi Mi Airdots have a Bluetooth 5.0 connection which uses BLE technology – enabling it to be more power efficient. The range is upto 10m, or the standard Bluetooth connection range. The case charges using the MicroUSB port on the back. The status is displayed by an LED on the case. Also each Airdot Bud has its own status LED which lights up red during charging & glows white during the pairing process.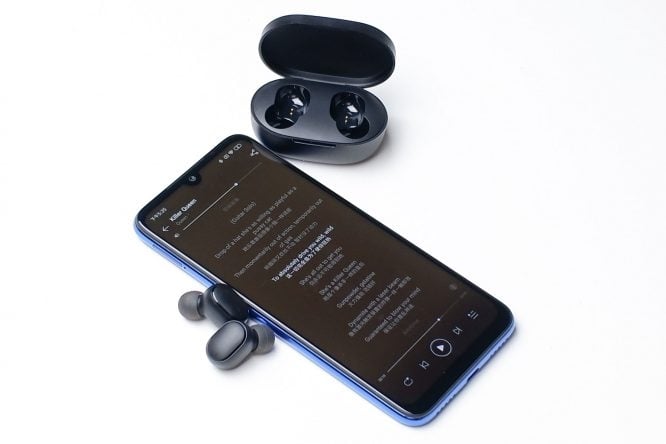 Both earbuds can be used in SIngle/Mono mode or in stereo. However, only the right earbud contains the microphone. The Airdots charge via the two magnetic pins which helps to attach it to the case.
The rear portion of the buds are touch sensitive. You can tap once to Play/Pause music, Tap and hold to invoke Google Assistant/Siri & double tap to skip tracks. You can also Tap once to pickup calls.
Audio Quality
The Mi Airdots uses AAC codec to stream audio wirelessly, but we hoped it would have Qualcomm AptX audio. Nonetheless it delivers exceptional audio quality at this price range. There are a few times when the audio turned Mono for a few moments – then back to stereo. But other than that there is no noticeable lag while watching videos, thanks to Bluetooth 5.0.
The noise cancellation on this is brilliant. Even better than airpods (Honestly though, airpods are the worst when it comes to noise cancellation). After putting them on, I could only hear my breath – nothing else.
Airdots are on the bass heavy side. You can feel the thumping of beats even at low volume levels. It is advised to configure your EQ for more treble boost. Surround effect works well & its very enjoyable while watching movies & listening to songs. Make sure to test by hearing 'Bohemian Rhapsody'.
Overall, the Mi Airdots may be the best value for money Earbuds we have reviewed. Its convenient,stylish & priced very appropriate compared to its counterparts. There may be better options at a higher price point than this – with AptX support etc.
But since headphone jack is becoming an endangered species – and you felt the need to buy a good TWS Earbuds at a reasonable price, then the Mi Airdots are for you. We wholeheartedly recommend this product.